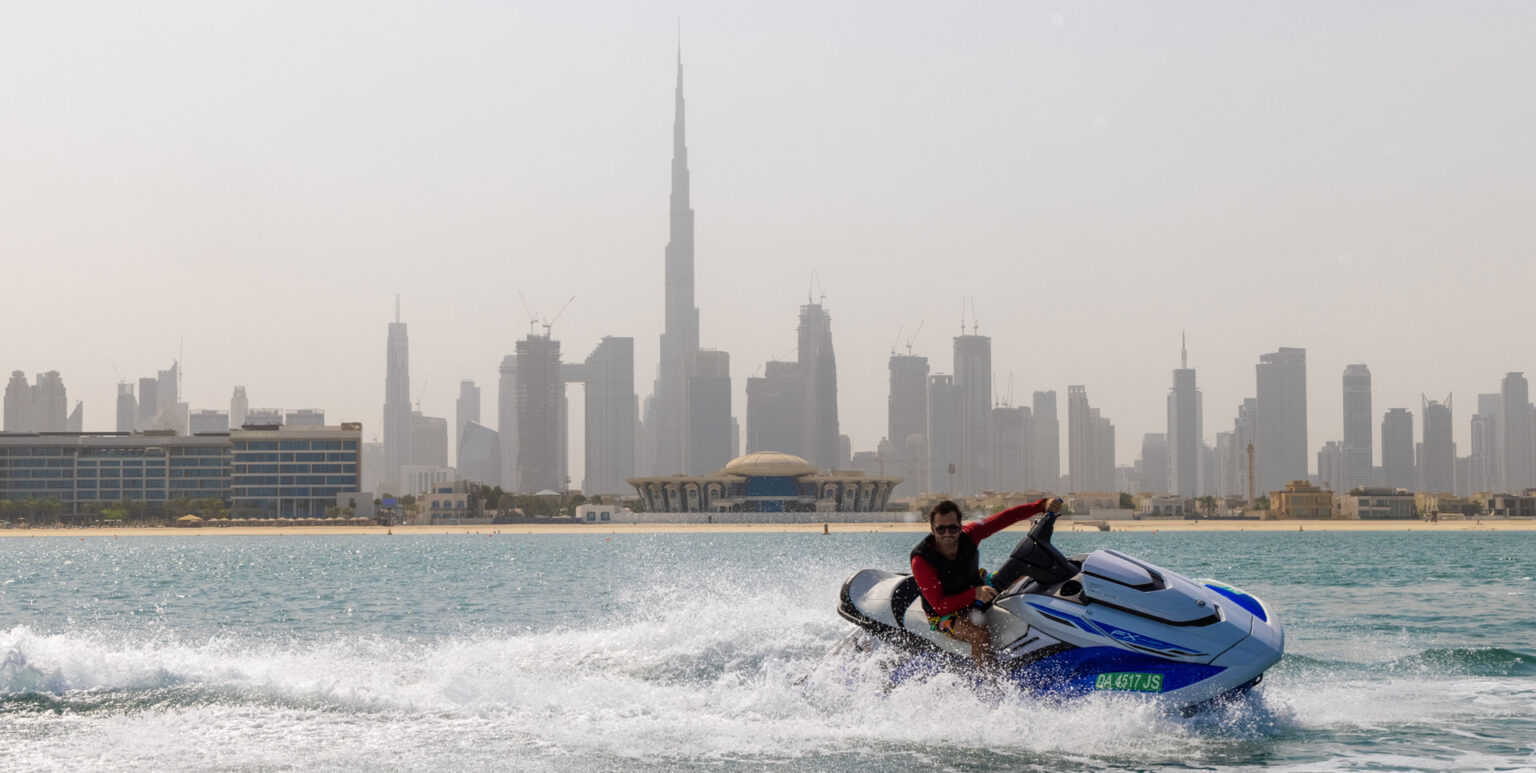 There isn't any sport much better than the enthralling jet ski Dubai for making endless memories in Bedouin Dubai City. Moreover, we provide you with a luxury and Private jet ski rental in Dubai to assist you in exploring the waters to their full potential. All in all, while you take in the stunning views of the best Arabian Sea, the beautiful and tallest Burj Khalifa, and other terrains, the skilled Jet Skiing Dubai tour guide team will lead you to pave the way.
Along with this, the jet Ski in Dubai has a strong interest in providing perfect water sports. And our team would love to share each moment with you over the years. similarly, when you Cruise around the open and best Arabian sea, you not only have fun in the Jet Ski Dubai Marina but also ensure the safety of the tourists.
Choose A Jet Ski to Explore Dubai:
Moreover, book a 30-minute thrilling Jet Ski Mamzar in Dubai to get a close-up look at the stunning Burj al Arab! Along with this, you'll get a chance to see Marina, the grand palm Jumeirah, and the startling structure of Dubai Burj Khalifa from a new angle. It's all possible only during this Inciting Dubai jetski ride. Indeed, your Jet Ski Tour Dubai guide will capture your pictures, and videos to recreate the moments of your Jumeirah Jet Ski.
You can preserve your memories and take them back home to share with your loved ones. All in all, we have a perfect new line of Deluxe Jet Ski Dubai for you, and our skis for rent are popular all over the sea. The reason is that they are the cleanest and best equipped for jet ski in Jumeirah. Similarly, we constantly keep upgrading our sports inventory and replacing old Jet Ski Near me with new ones.
Individual JetSki Dubai Packages:
Moreover, jet Ski In Dubai offers you single jetski Dubai price and you can tailor them to your preferences, including suitable times and ending. Yet, for corporate events of JetSkiing, you can rent a water ski easily. Therefore, our jet ski rental in Dubai is an excellent choice for tourists. However, if you are fond of a novel way to spend your summer events with friends, family, or more by yourself, book the Mamzar Jet Ski.
Further, now is the time to make a Dubai JetSki with us and see what you might have missed out on. Along with this, you may take your time as you make your way back to the starting point of Jet Ski Tour Dubai. Similarly, take in the stunning view of Downtown and the tallest building in the world.
Take A Ride Across The Beautiful Arabian Sea:
As you travel across the startling Arabian Sea for Skiing, take in the incredible and inviting view of the inviting Burj al-Arab. It is the only seven-star hotel that you can explore in the world during Jet Ski Dubai Marina. Besides, while having the most thrilling time possible on a fast and Grand jet ski at Marina Dubai, you can take in the best art of Dubai. Your JetSki Guide will never let you skip any moment of your jet skiing in Dubai. So you can recall this amazing event forever.
Jet Ski Through Marina and the Burj Khalifa:
At the Dubai jet ski event next to the tallest Burj Al Arab hotel, you can meet your guide. The guide will help you through the fast well-being events of Jet Ski Rental Dubai. And from that point onward, you can prepare to begin your superb plane of Dubai JetSki experience. For instance, the Burj Al Arab will serve as the first stop during Jet Ski In Dubai trip. With this spot as a backdrop, he will make your video while riding a jet ski Mamzar. Despite the Jetski, you can later go for a Quad Biking Dubai trip.
Continue The Ride To Palm Jumeirah:
Later, your jet ski Dubai Marina tour will continue with a ride to Palm Jumeirah which is popular as a superb man-made island. On the other hand, admire the Marina skyline and Beach up close as you cruise through the lagoon with Jet Ski Tour Dubai. Yet, you will have a chance to view Ain Dubai which is the largest wheel in the world. Hence, if you want to have fun with your pals, family, and so on, our Jet Ski Rental Dubai tubing item is ideal.
Near the Burj Al Arab, you can all take a speedboat tour as well. All in all, you can tease your family, friends, and more. Along with them, take pictures and videos, or just sit back after Jumeirah Jet Ski and enjoy the intriguing view of the city while your friends are on the tube. Líkewise, you can feel and experience an adrenaline rush while a speedboat is truly novel and distinct. So gather around and book your best Jet Ski Dubai Tour for an enthralling and endless skiing ordeal.
Frequently Asked Questions:
1. How much does a jet ski cost in Dubai?
The cost of renting a jet ski in Dubai varies depending on the location and duration of the rental. Typically, prices range from AED 150 to AED 400 for 30 minutes to one hour.
2. Do you need a license to drive a jet ski in Dubai?
Yes, you need a license to drive a jet ski in Dubai. The license can be obtained by taking a short training course and passing a test at any of the approved water sports centers in Dubai.
3. Can you go jet skiing in Dubai?
Yes, jet skiing is a popular water sport activity in Dubai. There are several locations where you can rent a jet ski and enjoy the beautiful coastline of Dubai.
4. Where can I hire a jet ski in Dubai?
There are many water sports centers in Dubai where you can hire a jet ski. Some popular locations include Jumeirah Beach, Dubai Marina, and Palm Jumeirah.
5. Which beach in Dubai is best for jet ski?
Jumeirah Beach is one of the best beaches in Dubai for jet skiing. The beach offers a long stretch of coastline with clear water and stunning views of the Dubai skyline. Other beaches like Dubai Marina and Palm Jumeirah also offer great options for jet skiing.