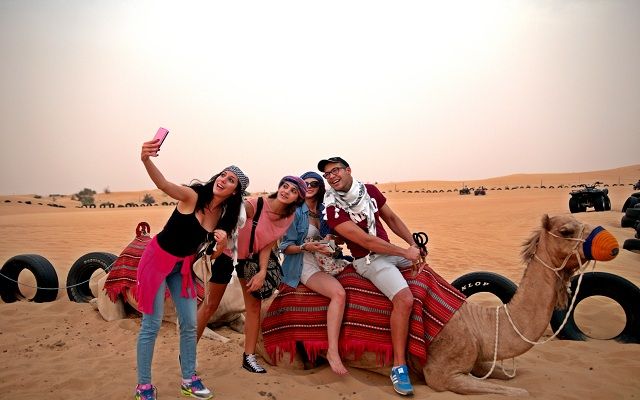 Introduction;
Dubai, renowned for its skyscrapers and vibrant urban life also offers a thrilling experience, in its expansive deserts. Desert safaris have become a sought after attraction among tourists due to the blend of adventure, natural splendour, and cultural encounters they offer. In this blog post we will delve into the 10 desert destinations in Dubai that are a must visit. Each of these destinations possesses its charm and allure.
Overview of Dubais Desert Safaris;
Dubais desert safaris are known for their exhilarating activities and awe inspiring landscapes. From heart pounding dune bashing to camel rides, these safaris provide an adrenaline rush. Discover why desert safaris have become a favorite among both tourists and locals.
2. Al Marmoom Desert Conservation Reserve;
Located at the heart of Dubai, the Al Marmoom Desert Conservation Reserve is a paradise for wildlife enthusiasts. Explore the reserve's plant life and fauna including oryx, gazelles, and migratory birds. Immerse yourself in the beauty that this desert safari destination has to offer.
3. Dubai Desert Conservation Reserve;
Indulge, in the wonders of the Dubai Desert Conservation Reserve. A protected area dedicated to preserving the region's biodiversity.
Embark, on a desert adventure where you can explore the rich variety of plant life observe fascinating desert wildlife, and gain knowledge about the conservation initiatives in place.

4. Lahbab Desert;
Indulge in a getaway to the enchanting Lahbab Desert, a captivating destination renowned for its sand dunes and breathtaking golden scenery. Engage in exhilarating activities such as off road driving, across the dunes experiencing camel rides, and trying your hand at sandboarding. Don't miss out on capturing awe inspiring photographs while immersing yourself in the mesmerizing splendor of this remarkable desert location.

5. Dubai Desert Safari Camps;
If you're looking for a desert adventure Dubai has a variety of desert camps and accommodations to choose from. From Bedouin style camps to glamping options there are different types of camps available that allow you to fully immerse yourself in the serene beauty of the desert at night.

6. Hatta Desert;
For an experience, you can explore the Hatta Desert located on the outskirts of Dubai. This area offers off road adventure opportunities to visit villages and breathtaking views of the Hatta Dam. It's a destination that combines beauty with cultural experiences.

7. Dubai Desert Wildlife;
Dubai is also home to an array of desert wildlife. From oryx to desert foxes some species have adapted to thrive in these arid landscapes. Discover more about these creatures. Learn about ongoing conservation efforts aimed at protecting them.

8. Liwa Oasis;
If you're seeking a awe inspiring experience make sure to visit the Liwa Oasis. Located within the Quarter this oasis offers towering sand dunes perfect for thrilling activities, like sandboarding and quad biking. Take in the peacefulness of the desert surroundings. Witness the breathtaking beauty that makes this destination truly exceptional.

9. Dubai Desert Photography;
Don't forget to capture your moments during your desert safari through photography.
Discover techniques and secrets to capture the mesmerizing charm of Dubai's deserts. Learn how to compose shots and make the most of the golden hour. Unleash your photography prowess as you chronicle your thrilling desert escapade.

10. Bedouin Culture and Traditions;
Explore the culture and customs of the Bedouin people, who have inhabited the deserts of Dubai for generations. Gain insights, into their way of life traditional rituals, and the significance of preserving their heritage. Immerse yourself in the hospitality of the Bedouins during your desert adventure.
In conclusion;
Dubais desert safaris offer a combination of excitement, natural beauty, and cultural immersion. Whether you're visiting the Al Marmoom Desert Conservation Reserve or the enchanting Liwa Oasis each destination holds its charm. Embark on a thrilling desert journey. Create unforgettable memories at these must visit spots, in Dubai deserts. Experience the exhilaration of dune bashing embrace the serenity of the desert landscape and witness wildlife that thrives in these lands. Discover Dubai's finest desert safari locations awaiting your exploration.